Formats:
download or stream in true DVD quality
Get COMPLETE access to ALL ADULT FANTASY PARK websites! With just one AdultFantasyPark pass - you can download everything, original theme porn movies from the World Famous AFP production house! We add a full length never before seen videos every week! Incredible quality, amazing girls and fresh faces. The AFP brings you the best horror-sex and SciFi fetish porn the world has seen and you get to download every video we have ever filmed! Its amazing, join today and start downloading!
Live Show News
Please check the forum for the current schedule!

Follow Mistress Ania on Twitter
Check below for the latest VIDEOS in the extreme HORRORSEX and Sci-Fi Fetish action!
Feed the Machine Alien Puppets II - 88 Images - 1 Movies - 10.04 Minutes - Added: July Thursday 12, 2012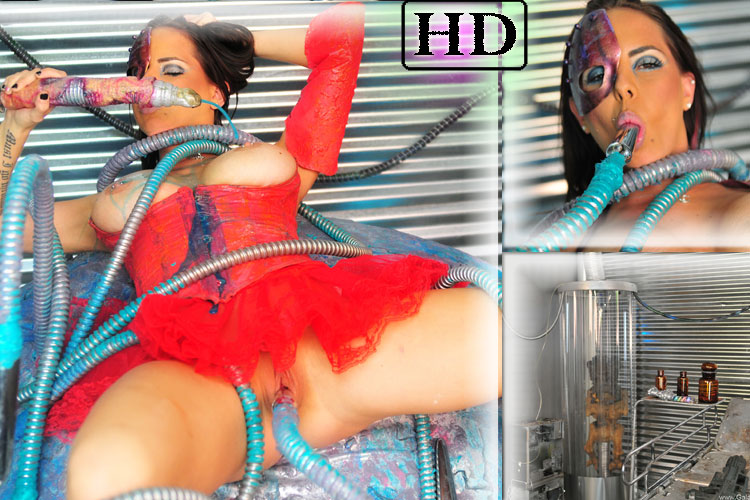 Sci-Fi sex Cyborg Brandy has visited the planet Pussea for second time?! The reason was the smooth porno aliens. When the horny Cyborg has visited the alien planet for the first time it was probed in all holes and experienced multiple sexual orgasms for the first time in its life. Since then the warrior has become addicted to sex, but nothing could satisfy its sexual desires as good as the aliens. Check out this wild alien sex video and find out what happened inside the scifi lab. Enjioy!...CLICK HERE TO JOIN NOW
WATCH TRAILER
---
Veronica Avluv in Evil Nun Teacher - 39 Images - 1 Movies - 17.48 Minutes - Added: June Wednesday 13, 2012
MILF nun Veronica Avluv performing wild sex acts in the church. Possessed by evil the top nun Veronica was caught on camera corrupting other nun secretly at night. The crazy MILF would jump on the alter and show the other nuns how to masturbate with huge dildos. She would insert the dildo deep in her ass then another one inside her pussy and masturbate until squirting all over the place. Check out this kinky fetish horror sex episode and let me know what you think....CLICK HERE TO JOIN NOW
WATCH TRAILER
---
Feed The Machine - The Puppets - 93 Images - 1 Movies - 12.47 Minutes - Added: June Wednesday 6, 2012
Feed the machine scifi robotic episodes have returned to GalacticGirls.com. In this episode top porno star Sophie Dee battles a dysfunctional sex robot equipped with metallic arms. But instead of hands the horny robot has grown dildos. Busty Sophie tried everything, but she could not prevent the crazy robot from probing all her holes. At the end instead of fighting back she decided to have some pleasure allowed the slimy alien dildos to enter deep in her pussy. Sophie Dee had multiple orgasms and was able to trick the broken robot and escape. Enjoy!...CLICK HERE TO JOIN NOW
WATCH TRAILER
---
Seduction in the lair of Satan - 224 Images - 2 Movies - 32.16 Minutes - Added: April Tuesday 17, 2012
Warrior priest father Angelino has exterminated most vampires from Europe and now he is working on a new assignment. He was tracking a Satanic Sect and in this episode he has found their evil temple. When the strong in the faith father entered the temple he was witnessed of a satanic ritual and he tried to stop it. Everybody ran away except the busty girl strapped to the alter. Little did Angelino know that she was the leader of the satanic cult and he was trapped. He untied her and tried to talk to her but she spat food at him and squirted milk out of her ass. The priest was shocked and the evil witch took advantage seducing him with a blowjob. Will the father allow his sexual desires blur his mind? Check out this horror sex movie produced by Mistress Ania and find out. The movie has been divided into two parts for easy download. Happy Easter!...CLICK HERE TO JOIN NOW
WATCH TRAILER
---
Alien Puppets Planet - 121 Images - 1 Movies - 14.43 Minutes - Added: March Thursday 29, 2012
Busty SciFi Warrior Kymjin was exploring undiscovered planet when she was captured by wild sex aliens. The aliens were part of the planet living symbioses with it. The planet was using the scifi arms to defend itself from invaders. Hot ass scifi warrior Kymjin was quickly moved deep inside the alien caves where she was probed for DNA. Little did the aliens know that Kymjin was trained for all kinds of Alien encounters and she experienced multiple orgasms, especially when a huge alien puppet was drilling her pussy, she even grabbed it and pushed it further inside. Most of the small aliens moved away and let a specially designed puppet to spray the scifi porno warrior with a special gas in order to sedate her. This was the moment busty Kymjin was waiting for to escape. Enjoy!...CLICK HERE TO JOIN NOW
WATCH TRAILER
---
Angelica Raven Anal Nun - 73 Images - 1 Movies - 14.31 Minutes - Added: February Wednesday 15, 2012
Busty nun Angelica was horny all the time. She suspected that the devil has taken a place deep inside her soul trying to manipulate her sexual desires. The hot nun found an empty church during the week hoping to clear out her thoughts and figure out what exactly her desires are. Right after she entered the church the horny nun jumped on the alter with a desire to masturbate. The big boob nun could not help it. She used different objects laying around and started to masturbate with them. But her real desire was the anal masturbation. She stuck a cross in her ass and achieved multiple orgasms. Watch this crazy horror sex movie and see the possessed by the evil nun inserting large statue in her pussy. Enjoy!...CLICK HERE TO JOIN NOW
WATCH TRAILER
---
Cyborg Ava Jay drilled by Alien Puppets - 54 Images - 1 Movies - 9.32 Minutes - Added: December Wednesday 28, 2011
After the many attempts to penetrate and explore the alien spaceship failed, the Galactic Girls designed a special female Cyborg called Ava Jay. Scifi Cyborg Ava was designed to look and feel exactly as a regular galactic girl warrior. She was sweet and seducing, but strong as a robot and smart as much as the alien baby mind. Small boob Cyborg Ava tricked the aliens and then pretended that she was fighting them. The crazy warrior allowed the them to capture her and let aliens drill her pussy and ass making them think that they have yet captured another galactic girl. While getting orgasm after orgasm the kinky fetish Cyborg was observing the spaceship and sending data back to the command center on planet Pussea. This is another exclusive scifi porno scene produced by Mistress Ania. Enjoy!...CLICK HERE TO JOIN NOW
WATCH TRAILER
---
Busty Nun Nikki Sexx in The Lords Supper III - 91 Images - 1 Movies - 22.17 Minutes - Added: December Saturday 24, 2011
This is the third part of the wild lesbian nun trilogy called the Lords Supper. In this horror sex episode top nun Nikki Sexx has come back to her room to find a huge mess. Lesbian Nuns Brandy and Kali have left the room a little bit tipsy, not realizing that they will be caught by Mother Superior. Nun Nikki started cleaning up to find wet panties thorn books and several statues laying around her bed. Somehow nun Nikki figured out that they have had wild lesbian sex in there and her pussy got wet immediately. She grabbed the statues and started inserting them in her vagina achieving multiple orgasms. Nun Nikki ended the last orgasm crying out loud – Merry Fucking Christmas. Enjoy!...CLICK HERE TO JOIN NOW
WATCH TRAILER
---
Nuns Brandy and Kali in The Lords Supper II - 145 Images - 1 Movies - 26.09 Minutes - Added: December Wednesday 7, 2011
This is the second part of the Lords Supper trilogy. After mother Superior knocked on the door both nuns quickly moved and sat at the table. The top nun entered the room, said a blessing and moved on to check on the other nuns. The kinky lesbian nuns opened their Christmas presents and were surprised to find smooth big statues. The pussy of nun Kali was still wet and she was imagining the statue deep in her vagina. Nun Brandy locked the door and the horny nuns moved to the bed. Conveniently nun Brandy had a strap-on and attached one of the statues to the strap-on. Nun Kali was already in a doggy style position moaning in expectation of the huge statue. What followed was a wild lesbian sex. Nun Kali was a little bit inexperienced, but nun Brandy took the lead and both had multiple orgasms. Stay tuned for part 3, where mother superior found out what a wild orgy had happened in her room....CLICK HERE TO JOIN NOW
WATCH TRAILER
---
SciFi Lesbian Girls and Alien Puppets - 101 Images - 1 Movies - 10.12 Minutes - Added: November Tuesday 22, 2011
The Intergalactic spaceship Pussea has crashed on a remote planet after barely escaping a black hole field near the center of the Casiopenis galaxy. Teen girl Kali and scifi babe Brandy were some of the survivors, who were wondering around the ship trying to find other galactic girls who have survived the crash. Both galaxy girls met in the engine room of the ship gladly surprised to meet, but also very scared of the strange alien noises going on around them. Colorful bizarre aliens started coming out of the floor grabbing the scared scifi girls. Shocked the girls did not notice that they were moved to a special alien sarcophagus, where all kinds of dildos penetrated all their holes getting a DNA samples for a crazy alien research. The aliens were very soft and smooth and the Sci-Fi babes experienced several orgasms. The aliens were also able to gain control over the minds of the sexy scifi girls. Enjoy!...CLICK HERE TO JOIN NOW
WATCH TRAILER
---